Minecraft: Wii U Edition launches December 17
Wii U version launches with multiple add-ons.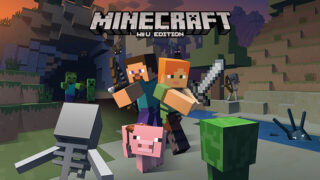 Minecraft will launch for Wii U on December 17, Nintendo announced.
The Wii U Edition will feature off-TV play, include multiple add-on packs, and launch via the Nintendo eShop for $29.99. The list of add-ons include:
Battle & Beasts Skin Pack
Battle & Beasts 2 Skin Pack
Natural Texture Pack
City Texture Pack
Fantasy Texture Pack
Festive Mash-up Pack
16 additional add-on packs will be available at launch, including:
Festive Skin Pack
The Simpsons Skin Pack
Doctor Who Skins Volume 1
Doctor Who Skins Volume 2
Star Wars Classic Skin Pack
Star Wars Rebels Skin Pack
Star Wars Prequel Skin Pack
Mass Effect Mash-up Pack
Skyrim Mash-up Pack
Plastic Texture Pack
Candy Texture Pack
Cartoon Texture Pack
Steampunk Texture Pack
Pattern Texture Pack
Greek Mythology Mash-up Pack
Halloween 2015 Mash-up Pack
Nintendo and Mojang are also collaborating on new content for Nintendo fans to be released at a future date. More information will be released at a later time.
Visit the official website here.