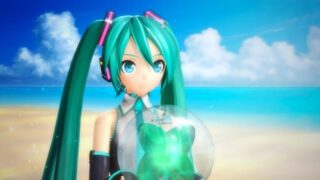 Sega has released a new set of details and screenshots of Hatsune Miku: Project DIVA X, introducing Live Quest Mode's Event Quests and Special Concerts, and the newest songs first introduced in the latest Weekly Famitsu.
Get the details below.
■ Opening Theme Movie

The opening theme of Hatsune Miku: Project DIVA X is "Tsumi no Namae" by Ryo (Supercell). Here's a sample. The opening movie depicts Hatsune Miku's "loss of song power" from which the game's story unfolds. Here are some cuts from the opening movie:

(More shots available at the gallery.)

■ Event Quests and Special Concerts

"Event Quests" and "Special Concerts" are new features included in the game's "Live Quest Mode."

Event Quests are unlocked after the player meets certain conditions. Area Quests have players select music placed in the area to advance, but Event Quests will unlock based on your progress in the game.

Among Event Quests are Special Concerts that can be held when certain conditions are met. These concerts are rhythm games made up of three songs, which players can choose. The songs chosen are Special Concert-use edited versions of the songs that are condensed to feature one chorus, and are joined by cheers from the crowd. Additionally, players can set up to three characters can be set for Special Concerts.

Special Concerts are done in full-sized concert halls with an audience. There are concert halls for each of the game's elements, and each has its own unique atmosphere. The camera, of course, moves around during the concert.

■ Songs

"Calc" (JimmyThumbP)

Attribute: Cool
Module: "Engage" (toi8)

"Babylon" (Tohma)

Attribute: Chaos
Module: "Chopstick" (Nagimiso)

Module: "Final Fusion" (Nagimiso)

"Kunoichi demo Koi ga Shitai" (Mitoki-P)

Attribute: Cute
Module: "Green Ponpoko" (Saine)

Module: "Orange Konkon" (Saine)

"Seisou Bakuretsu Boy" (Reruriri Moja)

Attribute: Beauty
Module: "Holy Lancer" (Hoshima)

"Chaos Melody: Giga Remix"

Consists of: "Pinko Stick Luv," "Gigantic O.T.N.," "Okochama Sensou," and "Ii Aru Fan Club."
Module: "Ivy Rabbit" (Rella)

Module: "Ivy Cat's-Eye" (Rella)

Module: "Ivy Tomcat" (Rella)

Module: "Ivy Moulin" (Rella)

Module: "Ivy Grimoire" (Rella)

Module: "Ivy Phantom" (Rella)
Hatsune Miku: Project DIVA X is due out for PS Vita in Japan on March 24 and for PlayStation 4 in fall 2016.
View the screenshots at the gallery.