Final Fantasy VII Remake details: reason for multi-part release, CyberConnect2 collaboration, more
New Famitsu and Dengeki Online interviews published.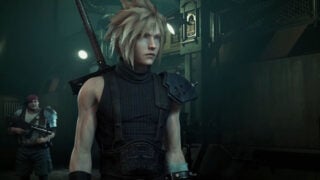 New information on Final Fantasy VII Remake has come out of new interviews with producer Yoshinori Kitase and director Tetsuya Nomura published by Famitsu and Dengeki Online.
But first, if you missed it, watch the debut gameplay trailer for Final Fantasy VII Remake here. Then catch up on yesterday's news where Square Enix announced the game will be released in multiple parts.
Here are some noteworthy interview snippets from Famitsu:
The official title is "Final Fantasy VII Remake." According to Kitase and Nomura, there were plans to attach a subtitle that relates to the story, but they didn't want to give off the impression that it was a spin-off or a sequel. Kitase added that, before they debuted the new trailer at PlayStation Experience 2015, they showed some of the reactions from the E3 2015 teaser trailer, and everyone's excitement reached its highest when the word "Remake" appeared on screen.

One of the main reasons Square Enix hasn't remade Final Fantasy VII up until now is because its a massive undertaking to construct it from the ground up with current technology, according to Kitase. A proper HD remake that maintains the same feeling of density of the original wouldn't fit into a single installment. Nomura adds that in the case of a single installment, content would have to be cut and the result would be a condensed version of the game. But with this method, players will be able to explore many different areas of Midgar that they couldn't access in the original. While parts may also be cut from the original, Nomura promises that overall, the amount of content is only going to increase.

Character models are supervised by the director at Visual Works. Roberto Ferrari is doing sub-character designs, such as Biggs, Wedge, and Jessie.

CyberConnect2 is one of Square Enix's external partners on the project. Kitase says in this day and age, it has become a common production technique to collaborate with a number of companies. He compliments CyberConnect2 for their action game experience and know-how, as well as video production. However, Square Enix is keeping close with CyberConnect2, as their production tastes differ from that of Square Enix. Nomura was annoyed by the direction of the the new trailer (laughs), so Square Enix brought it closer to the company's style.

The models from Final Fantasy VII: Advent Children are not being used, as they're more than 10 years old at this point. This time rather, they're making adjustments many times over to create a balance between realism and deformity (in the sense that it's unrealistic).

Outside of the segments from the teaser trailer, the new trailer is entirely in-game. After the scene at the end, where Cloud leaps off the train, the camera pans behind Cloud and gameplay begins. Nomura notes that the quality is still being polished.

The white-ish and skinny appearance of Cloud is a result of the lighting, according to Nomura. But Kazushige Nojima thinks "it feels sickly and that's really good."

The scene where Cloud cross-dresses for Don Corneo is included in the scenario. Nomura still hasn't done the design yet, though.

They were originally going to use Barret's design from Final Fantasy VII: Advent Children, but Nomura wanted to redesign him. Nomura says that from the start, he wanted to redesign every character.

The battle system is action-oriented, but it's completely different from Crisis Core: Final Fantasy VII, and not as strong in action as Dissidia Final Fantasy Arcade or Kingdom Hearts.

The battle system is Active Time Battle. However, the ATB gauge doesn't indicate the order of attacks, but rather is its own system unique to Final Fantasy VII Remake. Nomura says you should pay particular attention to when the gauge turns red.

A party consists of three characters, and players can switch freely between them at any time. You don't have to switch characters if you don't want to.

The battle tempo will be similar to Dissidia Final Fantasy Arcade. This time, we're only getting a look at the base part of the battle system, but you can switch characters and apply strategies. Nomura says it's not just aimlessly striking enemies. To accomplish such a system, they're recruiting experienced people from Dissidia and Kingdom Hearts to the team.

The quality of the latest trailer is just the starting point, according to Nomura. Now that they're able to showcase the direction of the remake, they're moving into polishing.
Here's Dengeki Online's full interview:
Final Fantasy VII Remake is a multi-part series. Please tell us more about this decision.

Kitase: "The idea that a remake of Final Fantasy VII would not fit into a single release was there from the very beginning. We still can't share more information about its multiple parts, but please look forward to future announcements."

Nomura: "If we dedicated our time to a single release, parts of it would become condensed. We'd have to cut some parts, and additional parts would come in few, so rather than remake the game as a full volume, we decided to do multiple parts."

Kitase: "As you can see in the trailer, we showed Sector 1 and Sector 8, but in those areas alone, I think you can see a lot of density. When you're remaking the entirety of the original version in that quality, it's not possible to fit it all in one release."

How will the battle system work?

Kitase: "Rather than a command-based battle ensuing when you encounter an enemy, we're aiming for a seamless active battle, as you can see in the trailer."

Nomura: "Regarding the battle speed and tempo, for the sake of a stress-free battle, we want to do something on the level of Dissidia Final Fantasy. As far as the degree of action goes, it's Dissidia Final Fantasy, then Kingdom Hearts, then Final Fantasy VII Remake. There won't be any actions that require a technique. By using the new system, we want to do action battles while also being able to fight thinking strategically."

What about the elements of the original battle system?

Nomura: "In the end, it's based on Final Fantasy VII, so elements like the ATB gauge and Limit Breaks will appear with new ways to be used. Please look forward to how this game will evolve through the remake."

Will the story be adjusted at all?

Nomura: "In addition to delving into these episodes more deeply, we're preparing a number of mechanisms and such. To those who played the original version will know the important parts and understand the story from the beginning to the end. Also for these people, I hope that they can be surprised once again."

Kitase: "I don't want the remake to end as something solely nostalgic. I want to get the fans of the original version excited. We'll be making adjustments to the story with this thought in mind."
Final Fantasy VII Remake is in development for PlayStation 4.