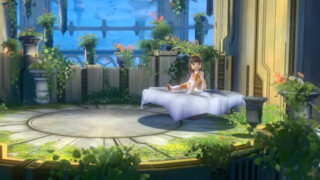 Famitsu has published the latest in its series of character introduction trailers for Spike Chunsoft and tri-Ace's upcoming Exist Archive: The Other Side of the Sky. The new video introduces Nagi Koharu.
Exist Archive is a side-view RPG in the vein of Valkyrie Profile developed by tri-Ace, the developers of Valkyrie Profile. It is set in modern day Tokyo / on the planet Protolexa. One day, an explosion in Tokyo caused by the evil god Yamatoga kills the game's 12 heroes, including protagonist Kujo Kanata. As a result, those 12 become immortal and harbor within them the soul of the evil god, and get wrapped up in the gods' quarrels.
Previous character videos have introduced Kiriya Tokihisa, Tsukishiro Mayura, Miwakawa Ranze, and Kujo Kanata.
The game is due out for PlayStation 4 and PS Vita in Japan on December 17.
Watch the Nagi Koharu trailer below.