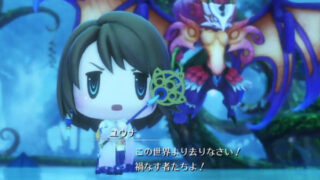 Square Enix debuted the first live gameplay footage of World of Final Fantasy during a Jump Festa 2016 stage event.
The footage shows a pair of battles in the "Forest of Lights" dungeon before an encounter with Yuna from Final Fantasy X where protagonists Reynn and Lann summon Squall from Final Fantasy VIII. You'll also get a look at using Gems to capture monsters, and using the abilities of captured monsters to get through dungeon obstacles.
Reynn and Lann can switch between small and big sizes at any time. When you're smaller, you can ride on monsters, and when you're bigger, you can stack monsters on top of you. This formation will affect the stats and abilities you use in battle.
Load times for battles are a bit long in the video, but it was noted that they will be shorter in the final version of the game.
World of Final Fantasy is due out for PlayStation 4 and PS Vita in 2016. If you missed it, catch the Jump Festa 2016 trailer here.
Watch the footage below.