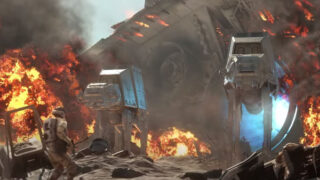 Electronic Arts and DICE have released a gameplay trailer for the 'Battle of Jaku' downloadable content for Star Wars Battlefront.
'Battle of Jaku' will be released free of charge. Consumers who pre-order Star Wars Battlefront will get it tomorrow, December 1, while everyone else will get it a week later on December 8.
Here's EA's official outline:
Be among the first players to experience the Battle of Jakku, the pivotal moment when the New Republic confronted key Imperial holdouts on a remote desert planet. Taking place in the aftermath of the Rebel victory in the Battle of Endor, players will experience the events that created the massive, battle-scarred landscape of Jakku shown in Star Wars: The Force Awakens.
Star Wars Battlefront is available now for PlayStation 4, Xbox One, and PC.
Watch the trailer below.