The Game Awards 2015 nominees announced
Metal Gear, Mario Maker, Fallout and more up for Game of the Year.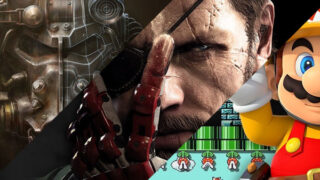 The Game Awards has announced the categories and nominees for its 2015 show, set to air on December 3 at 6:00 p.m. PT / 9:00 p.m. ET.
The awards show will stream live across go90, PlayStation Network, Xbox Live, Wii U, Steam, Twitch, YouTube, IGN, Polygon, GameSpot, Kotaku, Niconico, and MLG. In addition to awards, it will play host world premieres and musical performances.
Get the promotional trailer and list of nominees below.
■ Nominees

Nominees for The Game Awards 2015 are selected by a jury of 32 international media. In some cases, the jury is provided advanced review code of upcoming games in order to meet the Game Awards 2015 judging deadlines. Games must have been commercially released by Tuesday, November 24 to be eligible for awards. eSports nominees were voted on by an advisory panel consisting of eSports media and sites.

■ Jury Voted

Game of the Year

Developer of the Year

Bethesda Game Studios
CD Projekt RED
FromSoftware
Kojima Productions
Nintendo

Best Independent Game

Axiom Verge (Tom Happ)
Her Story (Sam Barlow)
Ori and the Blind Forest (Moon Studios)
Rocket League (Psyonix)
Undertale (Tobyfox)

Best Mobile/Handheld Game

Best Narrative

Best Score/Soundtrack

Fallout 4 (Bethesda Softworks, Bethesda Game Studios)
Halo 5: Guardians (Microsoft Studios, 343 Industries)
Metal Gear Solid V: The Phantom Pain (Konami, Kojima Productions)
Ori and the Blind Forest (Microsoft Studios, Moon Studios)
The Witcher 3: Wild Hunt (Warner Bros., CD Projekt RED)

Best Performance

Ashly Burch as Chloe Price (Life is Strange)
Camilla Luddington as Lara Croft (Rise of the Tomb Raider)
Doug Cockle as Geralt (The Witcher 3: Wild Hunt)
Mark Hamill as The Joker (Batman: Arkham Knight)
Viva Seifert (Her Story)

Games for Change

Cibele (Nina Freeman)
Her Story (Sam Barlow)
Life is Strange (Square Enix, Dontnod Entertainment)
Sunset (Tale of Tales)
Undertale (Tobyfox)

Best Shooter

Call of Duty: Black Ops III (Activision, Treyarch)
Destiny: The Taken King (Activision, Bungie)
Halo 5: Guardians (Microsoft Studios, 343 Industries)
Splatoon (Nintendo, Nintendo EAD Group No. 2)
Star Wars Battlefront (EA, DICE)

Assassin's Creed Syndicate (Ubisoft, Ubisoft Quebec)
Batman: Arkham Knight (Warner Bros., Rocksteady Studios)
Metal Gear Solid V: The Phantom Pain (Konami, Kojima Productions)
Ori and the Blind Forest (Microsoft Studios, Moon Studios)
Rise of the Tomb Raider (Microsoft Studios, Crystal Dynamics)

Best RPG

Bloodborne (Sony Computer Entertainment, FromSoftware)
Fallout 4 (Bethesda Softworks, Bethesda Game Studios)
Pillars of Eternity (Paradox Interactive, Obsidian Entertainment)
The Witcher 3: Wild Hunt (Warner Bros., CD Projekt RED)
Undertale (Tobyfox)

Best Fighting Game

Best Family Game

Best Multiplayer

Call of Duty: Black Ops III (Activision, Treyarch)
Destiny: The Taken King (Activision, Bungie)
Halo 5: Guardians (Microsoft Studios, 343 Industries)
Rocket League (Psyonix)
Splatoon (Nintendo, Nintendo EAD Group No. 2)

Best Art Direction

Batman: Arkham Knight (Warner Bros., Rocksteady Studios)
Bloodborne (Sony Computer Entertainment, FromSoftware)
Metal Gear Solid V: The Phantom Pain (Konami, Kojima Productions)
Ori and the Blind Forest (Microsoft Studios, Moon Studios)
The Witcher 3: Wild Hunt (Warner Bros., CD Projekt RED)

■ Fan's Choice (Vote Now)

eSports Game of the Year

Best Fan Creation

Trending Gamer

Christopher "Montecristo" Mykles
Greg Miller
Markiplier
Pewdiepie
Total Biscuit

eSports Team of the Year

Evil Geniuses
Fnatic
Optic Gaming
SK Telecom T1
Team Solomid

eSports Player of the Year

Kenney "Kenneys" Schrub (Counter-Strike: Global Offensive, Team EnVyUs)
Lee "Faker" Sang-Hyeok (League of Legends, SK Telecom T1)
Olof "Olofmeister" Kajbjer (Counter-Strike: Global Offensive, Fnatic)
Peter "PPD" Dager (DOTA 2, Evil Geniuses)
Syed Sumail "SUMA1L" Hassan (DOTA 2, Evil Geniuses)

Most Anticipated Game