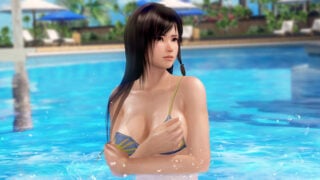 Original 11/18/15 at 8:13 a.m.: Koei Tecmo has released new footage from the PlayStation 4 version of Dead or Alive Xtreme 3, showcasing the game's tug-of-war and pool hopping activities.
Dead or Alive Xtreme 3 is due out for PlayStation 4 and PS Vita on February 25 in Japan. An English version is also due out in Asia.
Watch the footage, which debuted during today's Famitsu TKG live stream, below.
Update 11/19/15 at 3:43 a.m.: High-resolution footage added.
A new set of screenshots were also released and can be seen at the gallery.