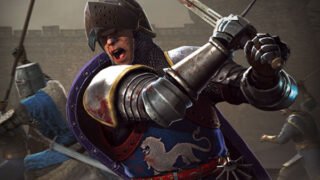 Chivalry: Medieval Warfare, Torn Banner Studios' melee-based action game, is coming to PlayStation 4 and Xbox One digitally on December 1 for $19.99, publisher Activision announced.
A $29.99 "Ultimate Edition" will also be available, which includes the full game, plus the "Barbarian Character Pack," "Marauding Arbiter Pack," "Inquisitive Dreadnaught Bundle," and "Barbarian Weapon Pack" add-ons.
The PlayStation 4 and Xbox One versions of Chivalry: Medieval Warfare feature 24-person online multiplayer, over 25 maps, dedicated server support, and a new horde mode for teams of up to six.
Here's an outline of the game, via Activision:
Chivalry: Medieval Warfare makes combat fast, forceful and precise with a deep melee fighting system and the ability to quickly switch between first and third-person perspectives. Lay waste to castles and villages as one of four distinct classes – Knight, Vanguard, Man-at-Arms and Archer – in battles of cold, ruthless steel across a multitude of solo and team-based modes. The game includes over 60 period-authentic swords, axes, maces, javelins, bows and more, complemented by a range of armors, helmets and siege weapons, including catapults, ballistae, boiling oil and battering rams.
If you're a fan of Chivalry: Medieval Warfare and fantasy, developer Torn Banner Studios recently trademarked "Mirage: Arcane Warfare." Perhaps their next project will be more fantasy-oriented?
Watch the Chivalry: Medieval Warfare launch trailer below.