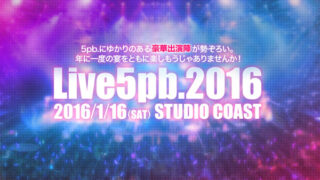 5pb. will share the latest information on ANONYMOUS;CODE, its YU-NO remake, and Mystereet F during a "Live 5pb. 2016" discussion stage events on January 16, the company announced.
ANONYMOUS;CODE was first announced in March as the latest science adventure game from Chiyomaru Shikura. Its platforms are still unannounced.
YU-NO: A Girl Who Chants Love at the Bound of this World is 5pb.'s PlayStation 4 and PS Vita remake of the 1998 classic visual novel. It's due out in Japan on February 18.
Mystereet F: The Detectives' Curtain Call is 5pb.'s May 2014-announced Xbox One game, which includes the original Mystereet by Abel Software and a completely new version of the still incomplete Mystereet 2.
Visit the Live 5pb. 2016 official website here.