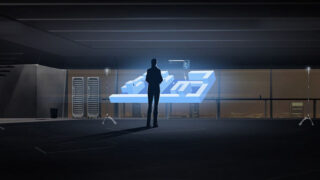 Volume, Mike Bethell's stealth-based video game, will receive a free expansion called "Coda" when PlayStation VR launches next year that adds 30 new levels, a new cast of voice actors adding new characters to the story, and a new VR setting as players take on the role of The Troubleshooter.
"Coda" will let you play Volume's core campaign in addition to the 30 new levels and user-generated levels in virtual reality.
Mike Bithell also provided an update on the PS Vita version of Volume.
"We've hit some roadblocks, which slowed us down," Bithell said on the PlayStation Blog. "Rushing out a weak port wasn't an option, and I'm proud of what the team have managed to squeeze into that awesome little platform."
The "Checkpoints" update, which adds new modes and leaderboards, is out today on PlayStation 4 and PC, and will is "absolutely" included in the core PS Vita release. If you own the PlayStation 4 version, you'll get the PS Vita version free. And speaking of which, the PlayStation 4 version is 30 percent off through November 4.