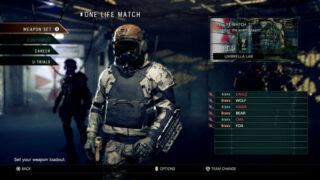 Capcom has released a five-minute gameplay video of Umbrella Corps, its upcoming multiplayer shooter set in the Resident Evil universe for PlayStation 4 and PC.
The video sees two squads from the Capcom development team in Japan battle it out in a three-versus-three "One Life Match" game. In this mode, players must defeat the opposing team within a three-minute time limit without any option to respawn.
Commentary from the team provides insight into some of the game's tactics, including aggressive firing, finding new paths by lifting shutter doors, utilizing the cover system, flanking the enemy, or plotting sneak attacks.
You'll also get a look at the game's non-traditional arsenal. For example, the "Brainer" melee axe can be charged up and used as a one-hit kill attack, and the "Zombie Jammer" prevents zombies from attacking, but if it's damaged, the player will become zombie food.
Umbrella Corps will launch digitally for PlayStation 4 and PC in early 2016 at an MSRP of $29.99 / €29.99 / £24.99.
Watch the gameplay video, plus a new live-action trailer, below.
Gameplay Video
Live-Action Trailer