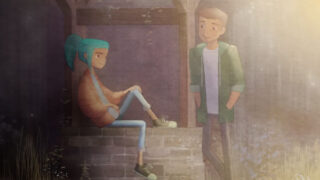 Oxenfree, the March-announced supernatural teen thriller adventure game from Night School Studio, a developer established by former Telltale Games and Disney staff, will launch for Xbox One and PC in January, the studio announced.
Here's an outline of the game, via Xbox Wire:
Created by a veteran team of storyteller and game developers, Oxenfree is a "supernatural teen thriller about a group of friends who unwittingly open a ghostly rift." The game plays out over one night, as a group of high school students on an annual school trip to a decommissioned military island decide to "miss" the last ferry back and spend the night on the island.

After sneaking down to a forbidden beach to party, things take a creepy and terrifying turn when one of the kids opens up a rift created by the island's unsettled past. With a fresh art style, and top vocal talent including Erin Yvette (Snow in The Wolf Among Us, Sasha in Tales From the Borderlands) and Gavin Hammon (Kenny in The Walking Dead, Beast in The Wolf Among Us, Tomb Raider), Oxenfree will be very appealing to fans of adventure… and supernatural horror.
Visit Xbox Wire for a short interview with Nigh School Studio co-founder Sean Krankel, who discusses the game further.
Watch a new trailer below.