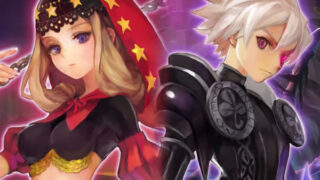 Following last week's Mercedes and Cornelius trailers, and the Gwendolyn trailer before, Atlus and VanillaWare have released two new character trailers for Odin Sphere: Leifthrasir, this time introducing Velvet and Oswald.
Here's a rundown of each:
Velvet – The surviving princess of the Kingdom of Valentine, which was mysteriously destroyed. To hide her identity, she fled to the forest of Elrit and became known as the Forest Witch. She pieces together the prophecies foretelling the end of the world. Though usually serene and composed, she is now desperately trying to find a way to prevent the armageddon. She detests her father, Odin, because his actions caused the death of her mother.
Oswald – A cold-blooded human serving the Fairy Kingdom of Ringford, Oswald is known as the Shadow Knight, and is feared for having slain a dragon. He was abandoned as a baby, but was taken in by Melvin, nephew to the Fairy Queen Elfaria. He lives only to serve his adopted father, regardless of the consequences. As a result of being treated like a slave for so long, he places little value on his own life.
Odin Sphere: Leifthrasir is due out for PlayStation 4, PlayStation 3, and PS Vita on January 14 in Japan and 2016 in North America.
Watch the trailers, in addition to two new TV spots, below.
Velvet
Oswald
TV Spot: Story