Marvelous announces Uppers for PS Vita [Update]
A stylish-looking new fighting game.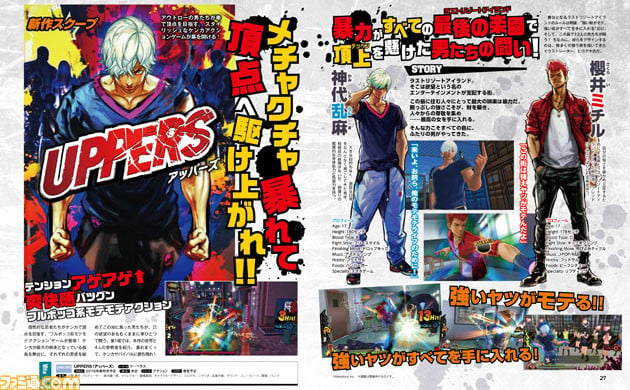 Famitsu this week reveals a new PS Vita game from Marvelous called Uppers. It is an action game set on an isolated island where fighting has become the largest form of entertainment. On this island, outlaws gather with hidden intentions and fight using only their fists.
A release date was not announced.
Thanks, Famitsu.
Update 7:15 a.m.: Uppers is produced by Kenichiro Takaki, the producer of the Senran Kagura series, and features a scenario by Yukinori Kitajima and character design by Hiroaki.
Introduced in the magazine is a character named Ranma Kamishiro, a young man whose days are somewhat boring. He has no experience in the martial arts, but hereditarily has threatening physical ability and beast-like strength.
Players will battle against enemies in phantasmagorical fighting action. Attacks will automatically change based on the enemy's position and posture. You can mercilessly attack enemies while they're flying and falling, and unleash combos through repeated button hits.
Girls will cheer the guys on during their fights to heat them up. If you defeat enemies in front of the girls, you'll power up. There is even a chest grab-and-bury-your-face element. (There's the Takaki influence.)
Uppers will launch in Japan in spring 2016.
Thanks, Hachima Kikou.