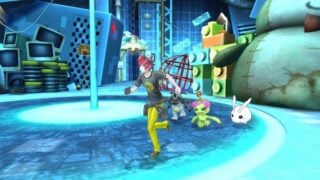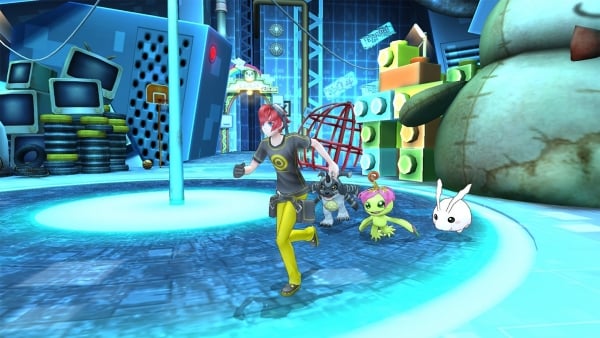 At Comic-Con in New York on Friday, we sat down with Digimon Story: Cyber Sleuth producer Kazumasa Habu to discuss the RPG's upcoming English release.
Digimon Story: Cyber Sleuth features more than 200 Digimon and lets players become a cyber detective, gathering clues and solving a digital mystery. Players can scan, raise, and train Digimon to battle alongside them against a mysterious groups of hackers. First launched in Japan for PS Vita in February 2015, the western release will ship for PlayStation 4 at retailers and for PS Vita via the PlayStation Store. It will launch in North America and Europe in early 2016.
Find our full interview below.
Digimon Story: Cyber Sleuth was being promoted during Digimon Adventure's 15th anniversary. What was the focus working on a Digimon game during such an important period in the franchise's history?

Habu: "As you mentioned, the 15th anniversary was last year in Japan. As you know, the Digimon IP was first delivered as a franchise for the children. Well, 15 years have passed since then, and now those kids are all grown up. So last year, we were focusing on how we can attract those old fans, who were once kids, to buy our game and get interested in Digimon again. So when we were creating the game, that was our focus."

That's actually one of the things I wanted to talk about. When it was still coming out in Japan, Bandai Namco called Cyber Sleuth a Digimon game for adult fans. What is it about the game that shows that?

"First, there's the game system, which we didn't want to change, because that's a big characteristic of the Digimon story and world. We didn't change the game system, so players can still collect Digimon, meet all kinds of Digimon, customize their own team, and go out to battle, and that's what you'll actually do in the game. What's new about the game is that we updated the narrative world of Digimon and created an original story just for the game. So we think the story will attract more older fans."

Why make an internet-based, cyberpunk Digital World over the more traditional-style Digital World this time?

"Actually, the world of Cyber Sleuth is not only the internet-based world. One part is Tokyo, a kind of imaginary Tokyo which we might see in the near future, and then on the other side we have this cyber world called 'EDEN.' As you know, Digimon are kind of programs based on data. We want our fans to accept this kind of setting in the game very naturally, so we have two parts to the world—the future reality Tokyo and the cyber world where players encounter Digimon. So it's basically kind of a new design that we want our new players to accept.

"Another thing I want to add about the setting—we're planning to attract more and more new players, including those that didn't really know about Digimon or the franchise before, so we want players to be able to accept the setting very naturally, which is why we went with this real world and cyber world. In the game, players first encounter Digimon in the cyber world, which of course—the internet is so developed, and everyone has used the internet in their lives, so this kind of setting hits close to home and makes them feel as if they can encounter these Digimon in reality. And then these players can collect and customize them, and those Digimon can come out into the real world in the game."

Suzuhito Yasuda, who is known for his artwork on the Devil Survivor games, did the character artwork for Digimon Story: Cyber Sleuth. This is his second Digimon title, but the first we're seeing in the west. Why choose Yasuda-san?

"One of the reasons we picked Yasuda-san to design the characters in this game—the first reason is because he designed the characters in the previous game, Digimon World Re: Digitize. We used him for that game and since it was successful, we wanted him to design the characters this time, too.

"The second thing is probably because, during the planning stages, we thought that Digimon fans are getting older and older, so instead of very cute-style characters, we wanted more realistic designs. And one of Yasuda-san's characteristics is that he designs characters very simply, and it's very easy for people to get used to his designs. He doesn't put any complicated characteristics into these characters.

"As you know, the main characters in the world are the Digimon, and when you level up those Digimon, their characteristics get complicated, and you'll see a lot of different features within each Digimon. So on the other side, Digimon are the main characters of our game. But then on the other side for the human characters, those who raise the Digimon, we don't want them to be very complicated. We want them to be very simple, but with a strong image in the player's mind. And that's one of Yasuda-san's best traits."

Your starter Digimon choices are Terriermon, Palmon, or Hagurumon – sort of a motley crew selection. Why choose these three over the traditional Agumon, Gabumon, and so on?

"We picked those three Digimon as the default monsters is that we have set three types of Digimon. The three types are Data, Vaccine, and Virus. During battles, the three types of Digimon have their own characteristics. For example, you have to use Data types to defeat Vaccine types, and those kinds of things. So we figured that using three different types of Digimon as the default was the best idea.

"Another thing is that we've had Agumon and Gabumon as the main Digimon in many previous games, and they're already beloved by many people. So instead of using them as the default Digimon, we wanted them to be more like the other characters, main characters in the story. And if you really want Agumon and Gabumon on your team, you can just try your best to encounter them by luck or by effort."

In previous Digimon Story games, you had this system where positioning certain Digimon next to each other gave them stat boosts. Why was that removed in Digimon Story: Cyber Sleuth?

"When we designed the game, we picked the Digimon Story series' game systems instead of the Digimon World systems because we wanted a simplified battle system for new players to get into. We wanted this battle system to be very simple. Instead of the positioning thing, we redesigned the battle system with different kinds of features. For example, we have three types of Digimon, then we have eight different kinds of attack patterns for each Digimon. Then we have the speed system, which if the Digimon's stats are speedy, he is faster at attacking others. If you really think the positioning part of the battle system is interesting and that people enjoy it, you can tell us and we can think about putting it in the next game!"

One of the new features of the western release in New Game Plus. Can you talk a bit about that?

"We want players to finish the story easily in their first playthrough of the game. And in the second playthrough, they can maintain the data for the customized Digimon they obtained in the first playthrough. In that regard, we think players can challenge the harder levels in their second playthrough. One of the fun parts of the game is collecting many kinds of Digimon, so we want players to taste the story in the first round, then afterwords collect and customize more."

In North America, and just recently confirmed for select European countries, there will be a physical release for PlayStation 4. Is there a possibility we'll see a limited run physical release for PS Vita, as well?

(Habu signals to Bandai Namco PR rep.)

Bandai Namco PR rep: "Come to our panel on Sunday."

Digimon Story: Cyber Sleuth is being released on PlayStation 4 in North America and Europe, but is only available for PS Vita in Japan. Is there a possibility that new Digimon games will be made for more platforms from the get-go?

Habu: "This time, we announced the PlayStation 4 physical version because we think PlayStation 4 has a lot of players in North America and Europe, so that's why we added it as one of the platforms. And we knew we had a lot of fans here in the global market because of the petition for the game's localization. The petition gave us a lot of strength and confidence that we can still bring Digimon to a lot of fans here in North America. So if we continue to listen to the voices of our fans, we can probably get into all kinds of platforms."

Do you have a role in the development of Digimon World: Next Order? Can you say which team is developing it?

"I'm sorry. I'm not on the team for Digimon World: Next Order, so I wouldn't know about the details."

Thank you for your time, Futami-san.
Watch a two-hour gameplay video of Digimon Story: Cyber Sleuth below.