Genei Ibun Roku #FE 'Toma,' 'Dungeon & Battle,' and world outline trailers
This week's Shin Megami Tensei X Fire Emblem video update.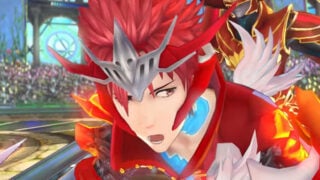 Nintendo and Atlus have released three new trailers for Genei Ibun Roku #FE introducing character Toma Akagi, dungeons and battles, and the game world.
Genei Ibun Roku #FE will launch for Wii U in Japan on December 26, and in North America and Europe in 2016.
Watch the trailers below. View the screenshots at the gallery.
Toma Akagi
Dungeon & Battle
From the real world of Tokyo, players will visit an area known as the "Idolsphere." In this other world, there are various gimmicks that block players' paths, as well as many enemy Mirages.
These gimmicks are tailored to each location. In Shibuya's "106" building dungeon, the goal is to get to the top floor by moving floors using a giant mannequin arm.
You'll break into battle when you make contact with an enemy symbol. Characters will perform actions when you give them commands. When you strike an enemy's weak point, a "Session Attack" will occur and you'll let out a number of continous attacks.
When you win a battle, you'll get experience points, skill points, and Performa. As you amass skill points, you can acquire new skills. You can use Performa as material to create new weapons.
World Outline