First look at Shin Megami Tensei IV: Final
A full-length followup to 2013's Shin Megami Tensei IV.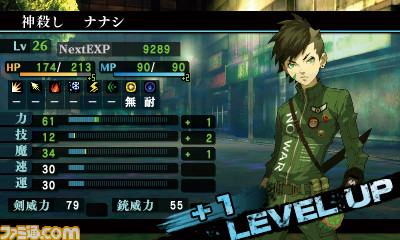 Famitsu has gone up with its debut online preview of Shin Megami Tensei IV: Final, Atlus' newly announced followup to Shin Megami Tensei IV for 3DS.
The game, which is described as a multi-story, multi-ending, and full-length followup to its 2013 predecessor, will see players select their own "partners" from a group of comrades, each with their own unique skills.
Asahi, for example, specializes in recovery. Navarre specializes in attack items and support magic. These characters will assist the protagonist for every turn in battle.
Like the protagonist, your partners will also develop as you fight. For example, if Asahi levels up, she'll be able to learn how to heal status ailments.
Shin Megami Tensei IV: Final is due out for 3DS in Japan on February 10, 2016 for 6,480 yen. Read more about the game's characters and story here.