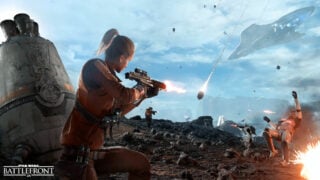 Last week, Electronic Arts and DICE confirmed an early October beta for Star Wars Battlefront, and teased a new mode called "Drop Zone." Today, the mode was detailed.
Described as similar to "King of the Hill," Drop Zone is an eight-versus-eight multiplayer match where Rebel and Empire teams must fight to capture and control drop pods falling through the atmosphere onto the planet surfaces.
When you locate a drop pod's landing site, you'll make your way towards it and trigger a short claim process. Your team wins if it captures five pods. Otherwise, the winner will be the team which controls the majority of drop pods after 10 minutes. If a pod is constantly changing position with no team able to defend it long enough to claim it, another pod will be sent down to break the stalemate.
Star Wars Battlefront is due out for PlayStation 4, Xbox One, and PC on November 17 in North America and November 20 in Europe.