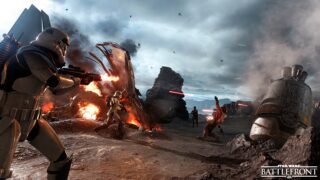 The multiplayer beta for Star Wars Battlefront will run across PlayStation 4, Xbox One, and PC from October 8 to 12, Electronic Arts announced.
The technical test, which will be open to all players and does not require registration, will feature the following modes and maps:
Walker Assault on Hoth: Fight in epic 40-player battles as a Rebel to destroy the Empire's onslaught of AT-AT's by calling in Y-wing bombers. Or, side with the Empire and protect your walkers while utilizing their mighty weaponry to crush the Rebel objective.
Drop Zone on Sullust: Escape pods are crashing down and you and your team must fight to control them. With its frantic 8v8 matches, Drop Zone is sure to put your combat and strategy skills to the test.
Star Wars Battlefront is due out for PlayStation 4, Xbox One, and PC on November 17.