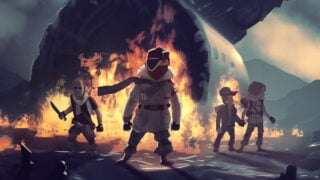 Last month, Max: The Curse of Brotherhood and Kalimba developer Press Play, a Microsoft studio, opened user voting to decide which of three projects it would work on next. The results are in, and the third-person, multiplayer action game Project: Knoxville is the decided winner.
Knoxville deals with "fragile alliances and survival" in a game show setting. It's inspired by films like The Running Man and The Hunger Games, and tasks players with working both together and against each other.
Press Play is currently working on getting Knoxville's prototype into a shareable state. The community will be able to engage with the studio throughout the game's open development. The first of Press Play's bi-weekly Twitch streams begins Thursday, September 17 at 5:00 a.m. PT / 8:00 a.m. ET.
Watch a set of videos below.
Announcement Video
Teaser Video
Prototype Teaser