Persona 4: Dancing All Night 'Hatsune Miku' DLC confirmed for North America
Virtual idol comes to the Persona series.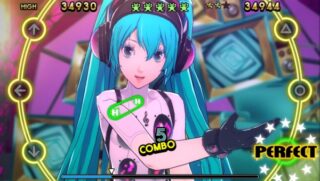 Atlus has confirmed in will release the "Hatsune Miku" downloadable content released for Persona 4: Dancing All Night in Japan in August in North America on October 20 for $4.99.
Hatsune Miku will have her own accessories that let her change her hair and eye color and is playable via the "Heaven feat. Hatsune Miku"(ATOLS Remix) song, which is available only in Free Dance Mode.
Persona 4: Dancing All Night will launch for PS Vita via retail and digital on September 29 in North America and November 6 in Europe.
View screenshots of the Hatsune Miku content at the gallery.