Persona 4: Dancing All Night Adachi and Marie DLC English character trailers, screenshots
Get the additional characters for $4.99 a pop.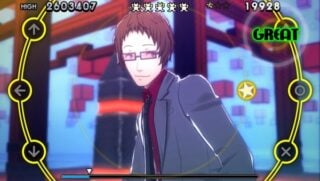 Atlus has released the English character trailers and screenshots for Persona 4: Dancing All Night downloadable content characters Adachi, Persona 4's sadistic detective, and Marie, the poetry-inclined Velvet Room inhabitant.
Persona 4: Dancing All Night will launch for PS Vita via retail and digital on September 29 in North America and November 6 in Europe.
Watch the trailers below. View the screenshots at the gallery.
Adachi
Tohru Adachi, Persona 4's scruffy haired, cheerful, sadistic detective is ready to show you what he's got to the tune of "The Fog (ATLUS Konishi Remix)." The self-proclaimed 'slave of Dojima' has an unpredictable and somewhat chaotic dancing style, and seems to go through just about every emotion one can during the song. Adachi is a playable character in Free Dance Mode in Persona 4: Dancing All Night with Yu as partner, but will only take to the stage after you purchase the DLC ($4.99)!
Marie
Marie, the mysterious, poetry-inclined girl who debuted in Persona 4 Golden drops her dactyls for dance moves in Persona 4: Dancing All Night! As the second DLC character ($4.99), she comes with her own track in Free Dance Mode, strutting her stuff to "Break Out Of…(Shihoko Hirata & Lotus Juice)" with Margaret as her FEVER partner. Watch her kill it on the Midnight Stage with dance moves as unique as her personality!