Nioh details online element, first screenshots
Summon and fight players who have died.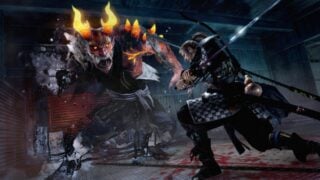 Koei Tecmo shared new details and the first screenshots of Nioh, its here">newly re-revealed "dark Sengoku action RPG" for PlayStation 4, during a stage event at the Tokyo Game Show today.
Nioh protagonist William can fight using multiple weapons, including swords and spears. Spears have a wider range and can strike a larger number of oponents, but is difficult to use in confined spaces. Each weapon has its own characteristics such as this. Additionally, switching between a higher offensive stance and lower defensive stance will be an important element.
There will be an online element called "Chinokata Dzuka" (Bloody Sword Mound). When you're connected online and playing the game, you'll see the "bloody sword mounds" of players who have died sticking out of the ground. When you touch it, that player's "Jigurui" (Corpse Deviation) will appear and a battle will ensue. You can see their name, level, and cause of death before deciding whether to summon them. Corpse Deviation battles are dangerous, but defeating the summon might earn you useful items.
William also has at his disposal a variety of "Guardian Spirits," which can be used at certain times to unleash a powerful attack. Some also offer healing abilities. If you die, your Guardian Spirit will stay in the location you were killed, and if you don't recover it, you won't be able to use it again. You'll be able to switch out your Guardian Spirit at shrines you encounter along the way.
Nioh is due out for PlayStation 4 in 2016. Catch the first gameplay here.
View the screenshots at the gallery.
Thanks, 4Gamer.net.