Monster Hunter X 'Nyanter Mode' introduction video
Play Monster Hunter X as a Felyne Palico.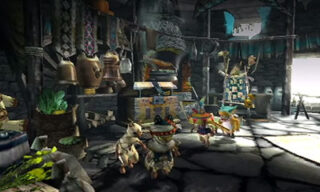 Capcom has released a six-minute gameplay video of Monster Hunter X introducing the game's newly announced Nyanter Mode.
In Nyanter Mode, you can play Monster Hunter X as a Felyne Palico. Nyanters have lower attack power than Hunters and can't carry items, but their basic operation is the same and they excel in mobility and providing various support. Their number of remaining lives is represented by acorns in the upper left-hand corner of the display, and when you die, you can resurrect on the spot by eating an acorn. Dying without any acorns to revive you will be treated the same as when a Hunter dies.
Monster Hunter X is due out for 3DS in Japan on November 28.
Watch the trailer below.