The Last Guardian brings life-size Trico to TGS 2015
Communicate with Trico at the Sony booth.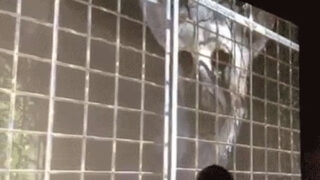 Last week, genDesign, the creative studio behind The Last Guardian, teased "a new and different way" of bringing The Last Guardian creature Trico to the Tokyo Game Show. Today, we see what they meant.
At this week's Tokyo Game Show, there will be a corner of the Sony booth where attendees can "communicate" with a life-size version of Trico, who is projected on a giant screen and controlled by the same AI used in the game. By the look of it, Trico will react to your movements.
Have a look at the communication at work below:
明日から開催される東京ゲームショウ2015ではトリコとのコミュニケーションを実際に体験できるスペースがあります。ゲームと同じAIで制御された実物大のトリコがお待ちしております。会場にいらした方は覗いてみてください。 pic.twitter.com/TuVWKTM2vd

— genDESIGN (@genDESIGN_Inc) September 16, 2015
The Tokyo Game Show runs from September 17 to 20.