Hardware: Rivals PS4 beta begins September 30
PlayStation Plus subs welcomed on a first-come, first-served basis.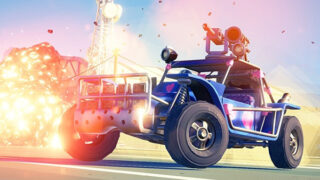 A beta for Sony Computer Entertainment's recently announced Hardware: Rivals, a multiplayer, vehicle-based combat game for PlayStation 4, will launch worldwide for all active PlayStation Plus subscribers tomorrow, September 30, Sony announced.
Sony will let in batches of players on a first-come, first-served basis. When you launch the game, you'll automatically be granted a beta key if one is available, and can start playing immediately.
If all of the beta keys from the current batch are taken, you'll have to wait until a new batch is released. New beta keys will be released regularly.
Users who receive a beta key will also be able to invite a friend to join them.
A dedicated beta forum will be launched where players can learn more about the game, leave feedback, and get the latest updates from the development team.