Hardware: Rivals announced for PS4
A followup to the 2002 PS2 game Hardware: Online Arena.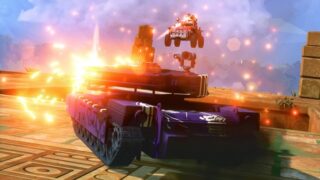 Sony Computer Entertainment has announced Hardware: Rivals, a new game coming to PlayStation 4 via the PlayStation Store that builds upon the legacy of the Europe-only, online-only, vehicle-based combat game Hardware: Online Arena that launched for PS2 in 2002.
Developed by SCE Connected Content Group, a new internal studio at Sony Computer Entertainment, the game promises a "truckload of upgrades and new features" while keeping the spirit of the original gameplay.
Hardware: Rivals will feature multiple maps, game modes, challenges, and special events. You can play solo or as part of a team, and the schedule of special events will be constantly updating.
Fast Attack Vehicles will offer agility and quick access to tricky weapon pickups, while Tanks are less agile, but can take heaver hits and offer more firepower. There will be upgrades and players will be able to tweak their vehicles to their own tastes.
A release date was not announced.
Watch the debut trailer below. View the first screenshots at the gallery.