Genei Ibun Roku #FE introduces new characters Mamori and Barry
Mirages confirmed for previously announced characters.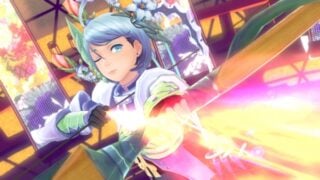 The latest issue of Weekly Famitsu introduces two new characters set to appear in Nintendo and Atlus upcoming Fire Emblem and Shin Megami Tensei collaboration RPG Genei Ibun Roku #FE.
The new characters are:
Mamori Minamoto (voiced by Kaori Fukuhara) – A talent and Mirage Master that belongs to the same public entertainment office as the protagonists. She's an elementary school student that likes Showa era songs and clothing.
Barry Goodman (voiced by Yuichi Nakamura) – A once popular musician who's come to Japan in search of otaku culture. Following his retirement, he works with the protagonists as a trainer.
Famitsu also confirms Mirages, otherworldly beings drawn to people's creative energy and fight alongside the protagonists, for a couple of previously announced characters:
Kiria Kurono – Tharja (Fire Emblem Awakening)
Eleonora Yumizuru – Virion (Fire Emblem Awakening)
Mamori Minamoto – Draug (Fire Emblem: Shadow Dragon and Blade of Light)
Genei Ibun Roku #FE will launch for Wii U in Japan on December 26, and in North America and Europe in 2016.
Thanks, Hachima Kikou.