Valkyrie Drive: Bhikkhuni launches December 10 in Japan
Nyuu Nyuu DX Pack and more detailed.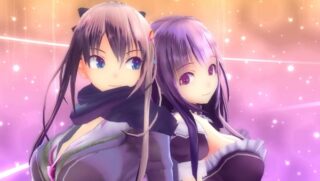 Valkyrie Drive: Bhikkhuni will launch for PS Vita in Japan on December 10 for 6,980 yen, Marvelous announced.
An 8,480 yen "Nyuu Nyuu DX Pack" limited edition will include the following additions:
Warai Manakakko-illustrated special box
visual book featuring character designs and illustrations
Original soundtrack CD
Special drama CD
Valkyrie Drive limited edition original package
Early buyers of either the standard or limited editions will receive the "Mermaid," "Bhikkhuni," and "Siren" swimsuit costumes, which are each designed based on the artificial island of the same name within the game's story.
Marvelous also share some new gameplay details:
The Base of Operations: "Cafeteria"

In the Cafeteria, you can talk to other characters, and there are events that raise each other's mutual affections levels, too. Additionally, you can change costumes, etc. and have various communications with characters through the "Communication Room" and such.

Fight with Your Favorite Costume

In the Communication Room in the Cafeteria, you can change into your favorite costume. You can change each character's clothing, underwear, hairdo, and accessories.

Rank Up by "Touching"

In the Communication Room, through "touching" during costume changing, touch reactions, and such, you can deepen your bonds with characters. Depending on the experience points you earn, your "Oppai Rank" will rise, and you can get title and mini-game challenge tickets.
View a new set of screenshots at the gallery.