Tokyo Xanadu screenshots introduce collaboration stores, hot springs
Featuring stores like Animate, Kotobukiya, and Orion Shobo.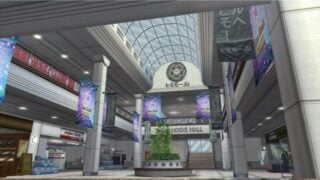 The latest set of Tokyo Xanadu screenshots introduce the action RPG's Nanahoshi Mall and Kamiyama Hot Springs areas. You'll find real-world stores both inside and outside of the Nanahoshi Mall.
Get the information below.
■ Nanahoshi Mall

Considered the place to go for sub-culture, Nanahoshi Mall is a two-story shopping center crammed with niche shops and always full of customers from every demographic. Strengthen your equipment at the Joujima Wireless junk shop, or visit Pixis, where they deal in cosplay products. You can find goods related to the in-game TV anime "Magical Girl Magical Alisa" at Animate, or you can purchase special accessories at Kotobukiya. Judging by the screenshots, there is also a jewelry shop and fortune-teller.

Animate

Located on the second floor of the Nanahoshi Mall, this store sells character goods, light novels, and other items, including ones from the in-game TV anime, "Magical Girl Magical Alisa."

Kotobukiya

Also located on the second floor of the Nanahoshi Mall, all the local people know this toy and model shop. They deal in a wide range of items from nostalgic toys to the latest model kits.

■ Orion Shobo

A large shop located in the station square that Shiori's father manages. You'll find the latest edition of the Morimiya Journal newspaper here, and can purchase books recommended by each of the game's characters.

■ Kamiyama Hot Springs

A long-established inn and hot springs located northeast of Morimiya, on the border with Saitama Prefecture at the foot of Mt. Kamiyama. The water is famous for its miraculous properties and the area is well-known as a "power spot" flowing with mystical energy.

The facilities are well-appointed and include a modern Japanese lobby, the annex "Hoshimisou," the outdoor bathing area "Tsuki no Yu," and a tasteful courtyard garden, and many customers make repeat visitors, even from other prefectures.
Tokyo Xanadu is due out for PS Vita in Japan on September 30.
View the screenshots at the gallery.