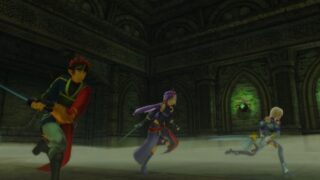 Sword Art Online: Lost Song will launch for PlayStation 4 and PS Vita at both retail and digital in North America on November 17 and in Europe on November 13, Bandai Namco announced.
The game will be available with Japanese voice acting and English, French, Italian, German, and Spanish subtitles.
A followup to last year's Sword Art Online: Hollow Fragment for PS Vita, which saw a digital-only PlayStation 4 update last month in the form of Sword Art Online Re: Hollow Fragment, Sword Art Online: Lost Song is set in the world of ALfheim and follows an original story with new environments, aerial battles, and a number of playable characters and quests.
Find a brief rundown below.
About

Journey into the world of ALfheim Online for the very first time! Join Kirito as he ventures online to explore Start Alfheim, a brand-new area of ALfheim Online, the floating is comprised of continents led by The Floating City of Ryne. This original storyline includes new and returning characters and exclusive environments in the ultimate Virtual Reality universe! Sword Art Online: Lost Song features all-new Aerial Battles and plenty of customization features. Link Start into the Sword Art Online world and join your favorite dual-wielding player, Kirito, on the greatest adventure yet!

Key Features

Explore land and air – Walk or fly throughout the world of ALfheim Online and soar through the skies around the floating!
Create your hero – Play as Kirito or other key characters from Sword Art Online including Leafa and Asuna or create your own customizable avatar.
New Adventures – Experience a completely new adventure and story in ALfheim Online in a new area of the world, Start Alfheim.
Online Battles – Explore the world with up to 3 other friends in co-op play or take to online battle with multiple PvP modes.
View a new set of screenshots at the gallery.