Regular New 3DS coming to North America on September 25 via Animal Crossing bundle
North America finally getting the smaller New 3DS.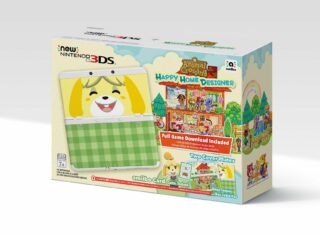 Nintendo is bringing the normal, non-XL New 3DS to North America on September 25 as part of a special bundle including Animal Crossing: Happy Home Designer, two cover plates, and one Amiibo card for $219.99, the company announced.
Previously, only New 3DS XL was available in North America, whereas in Japan and Europe, both New 3DS and New 3DS XL are available.
Additionally, Nintendo will launch a "Hyrule Edition" New 3DS XL exclusively at GameStop stores on October 30, which includes a gold-colored New 3DS XL, for $199.99, just in time for the launch of The Legend of Zelda: Tri Force Heroes, which is sold separately.
"More than 15 million systems in the Nintendo 3DS family have been sold in the U.S. alone," said Scott Moffitt, Nintendo of America's Executive Vice President of Sales & Marketing. "These new models offer additional fun ways to experience some of the great upcoming Nintendo 3DS games launching in the next few months."
Nintendo will also launch various Amiibo cards alongside Animal Crossing: Happy Home Designer. Users who own a 3DS, 3DS XL, or 2DS can use the cards via a "Nintendo 3DS NFC Reader/Writer" accessory that will be released on the same day for $19.99.