Persona 4: Dancing All Night Yukiko English character trailer, free launch DLC confirmed
Swimsuit costume set available free for one week following launch.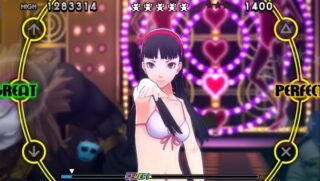 Atlus has released the English character trailer and screenshots for Yukiko Amagi in Persona 4: Dancing All Night, as well as confirmed the "Girls' Swimsuit Set" free launch costume downloadable content for the game.
The costume set will be available for free for only one week following the game's launch on September 29. It unlocks swimsuit costumes for Rise, Yukiko, Chie, and Naoto.
A full list of downloadable content, including roll-out timing and pricing, will be announced in a followup report.
The PS Vita rhythm game is due out in North America on September 29.
Watch the Yukiko trailer below. View a new set of screenshots at the gallery.
From demure innkeeper to unstoppable on the dance floor, Chie's best friend Yukiko Amagi is in the spotlight for this character video. Known for her elegance and beauty, Yukiko definitely emanates class and grace infusing ballet and traditional Japanese dance into her routines! Yukiko cares for her friends and family deeply, and vows to become stronger to protect everyone around her — she doesn't hesitate to help when Yu and the Investigation Team venture into the Midnight Stage to save Kanamin Kitchen!