Persona 4: Dancing All Night 'Hatsune Miku' DLC launches August 27 in Japan
See Miku in motion in the Persona 4 dancing spin-off.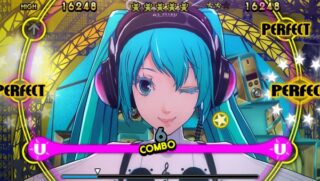 The Hatsune Miku character downloadable content announced for Persona 4: Dancing All Night last month will launch in Japan on August 27, Atlus announced.
Miku will be playable via the song "Heaven feat. Hatsune Miku (ATOLS Remix)."
Additionally, a free "P-Color Selection 2" add-on will be released on August 18, providing 13 new multi-colored outfits for all of the game's characters.
Watch the Miku add-on trailer below. View some more screenshots at the gallery.
https://www.youtube.com/watch?v=