Omega Labyrinth introduces cast, Omega Power
Aina Akemiya has big goals.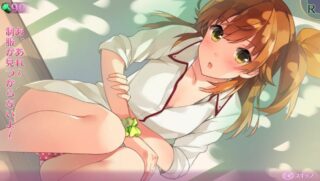 Dengeki PlayStation this week offers first details on D3 Publisher's newly announced PS Vita roguelike RPG Omega Labyrinth.
Get the information below.
■ Cast

Aina Akemiya (voiced by Haruka Yamazaki)

The protagonist. In efforts to increase the size of her breasts, she takes on dangerous dungeons in search of the the "Holy Grail of Beauty," which is said to fulfill its user any wish.

Nako Mimomo (voiced by Aya Uchida)

A close friend of Aina. She's always getting herself caught up in trouble. Even early in dungeons, she tends to stray off on the wrong path.

Sairi Sousha (voiced by MAO)

A cool and smart girl who's part Russian. She wears a ninja-like scarf she received from Aina.

Pai (voiced by Emi Uema)

A fairy that loves hanging out in cleavage.

■ Omega Power

Through Omega Power, the chest size of the characters you control will gradually increase, and when your uniform snaps and flies open, it can damage the enemy.

As your chest size increases, so will your status, and when your status reaches its maximum potential, you'll trigger "Hatsumune Mode."

Points you amass in dungeons can be used for item buying and appraisal.

You won't know the details about items you obtain in dungeons, and must therefore have them appraised via the "Oppai Appraisal" system, through which the item is placed between the character's breasts and jiggled, thus revealing the item's true nature. (Otakomu has some scans from Dengeki PlayStation showcasing this system.)

By using "Agony Scent" items obtained in dungeons, the girls will get excited.

■ Partner Character

Other than the leader, you can take one partner character into dungeons with you. However, because it's a roguelike RPG, if you die in the dungeon, both characters' equipment will be lost.

■ First-Print Bonus

First-print copies of the game include download codes for the "Lightning Malans" and "Hip Shield" equipment.
Omega Labyrinth is due out for PS Vita on November 19 in Japan.
Thanks, Games Talk, Dengeki Online, and [email protected].