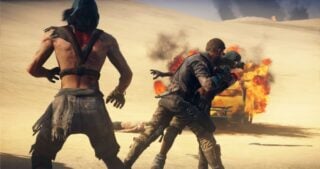 Warner Bros. and Avalanche Studios have released a new trailer and screenshots for Mad Max to kick off this week's Gamescom in Cologne.
The trailer, dubbed "Stronghold," gives viewers a look at the various fortified outposts located throughout the open world of Mad Max's post-apocalyptic wasteland. Max encounters a number of unique characters—including Jeet, Gutgash, Pink Eye and Deep Friah—at these strongholds, all of whom Max must befriend as he prepares to take on merciless Wasteland tyrant, Scrotus.
Mad Max will launch for PlayStation 4, Xbox One, and PC on September 1.
Watch the trailer below. View the screenshots at the gallery.