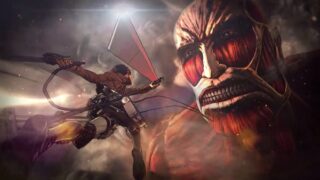 Dengeki Online has an interview with Koei Tecmo managing director Hisashi Koinuma on the company's newly announced Attack on Titan game developed by Omega Force.
Games Talk did the dirty work of picking through the interview for the juicy bits, which we've translated below:
The project began from around the end of 2013 into January and February 2014.
It's an action game that factors in the elements of being "united with your companions" and the "sacrifice of your companions." It's different from what many refer to as a "hunting game."
The game also incorporates ideas offered by the original author Hajime Isayama.
The game will follow the original story written by Hajime Isayama.
As an action game, Koei Tecmo wants to establish an image where players can move around the world of Attack on Titan as they like. It won't be a 'defeat the enemy, progress the story'-type game. At its core, it's an action game and within that, players will be able to understand the story.
The game will start from the beginning of the original story.
From its initial planning, Koinuma was moving forward with the title on his own. After becoming managing director of Koei Tecmo in April, Koinuma's connection to the project became difficult, but he did not move away from development and supervised the game's direction and management.
The game is being developed with PlayStation 4 as the lead platform. Previously, Koei Tecmo would base its games on PlayStation 3, brush it up for PlayStation 4, and release a PlayStation 3-level handheld version for PS Vita. This time, PlayStation 4 is being given priority.
The game's action parts have been built and scrapped over three times—repeated trial and error. The story, side elements, and systems are doing well, though. Somehow, Koei Tecmo wants to release it in Japan "this winter."
The 3D Manuever Gear is the most important element, making sure you move and fight comfortably with it and without compromise.
Whether or not the player takes on the role of Eren Yaeger is still a secret.
They plan to make the action draw you in with quick and elegant take downs.
The Attack on Titan game is due out for PlayStation 4, PlayStation 3, and PS Vita in North America and Europe in 2016.