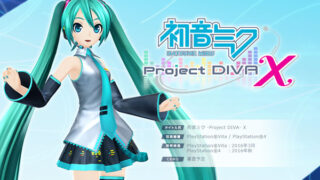 Sega has announced Hatsune Miku: Project DIVA X for PlayStation 4 and PS Vita.
The PS Vita version is due out first in March 2016 in Japan, and the PlayStation 4 version will follow in fall 2016. The PS Vita version will exhibit next week's Magical Mirai 2015 event, which runs from September 4 to 6.
The concept of the Project DIVA X is "Live & Produce" (Concerts & Producing). There will be a new, still to be detailed mode called "Live Quest Mode" (Concert Quest Mode) which will offer a new way to enjoy the game.
The announcement comes following the end of Sega's "neXt39" countdown.
Visit the Hatsune Miku: Project DIVA X official teaser website here.
Watch the "Sega feat. Hatsune Miku Project" eighth anniversary trailer below, featuring first footage from Hatsune Miku Project DIVA X. View the first pair of PS Vita screenshots at the gallery.