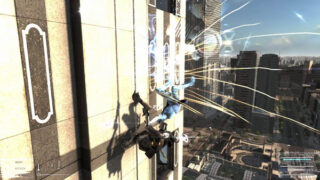 Square Enix is in talks with Just Cause 3 developer Avalanche Studios to use the open-world action game's technology in Final Fantasy XV, director Hajime Tabata said.
"We're talking to their central technology team based in Stockholm in Sweden about a certain collaboration we might do with them and the Final Fantasy XV team," Tabata told IGN at Gamescom.
"We've got really great hopes for this discussion. What we're going to be talking about is possibly being able to use their really unique, really high level amazing technology they have in their studio and using it as an add-on to enhance the quality of a certain specific part of our Final Fantasy XV game," he explained. "We really think something very special may be coming out of that."
According to Tabata, those conversations have only just begun, so there's no guarantee it will bring about any results. When asked what, specifically, Square Enix is interested in, Tabata said it's Just Cause 3's verticality.
"When I saw what the guys at Avalanche Studios were doing with Just Cause 3, what really impressed me was how they have that vertical element to their games and the technology they use to achieve that kind of thing," he said. "So I really felt that if we could borrow some of their technology and have some help on what they do to achieve that and put that into our Final Fantasy XV engine, we could see a lot of really great breakthroughs in what we'd be able to do with the game."
Tabata feels that the partnership would benefit both parties, as Square Enix has "very great technology within our department, within our team, aimed at creating real-time footage as you saw in the footage shown in the trailer today. So maybe that could be a great help to them as well."