Dragon Quest VIII for 3DS screenshots introduce post-ending story
"A certain secret" about the protagonist revealed.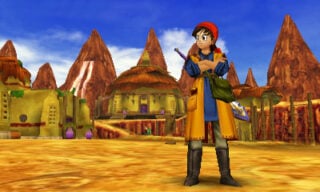 Dragon Quest VIII: Journey of the Cursed King for 3DS won't end after the game's main story is cleared. There will be an post-ending story that unlocks after you clear the main story.
According to Square Enix, the post-story will reveal "a certain secret" related to the protagonist.
Screenshots show the protagonist standing in front of a door, beyond which this new story begins. There's also an unfamiliar town where there appears to be no sign of life, suggesting there was some sort of incident.
After discovering a mysterious stairway, the protagonist will come across an unknown foursome of monsters, who fuse together to become a single monster of overwhelming strength.
Furthermore, within a dungeon, you'll encounter a huge dragon that claims itself to be the Dragon God Sovereign (voiced by Kenjiro Tsuda). A "shocking truth" will be revealed after the fight, and the protagonist will not hide his astonishment.
This is unrelated to the new ending first teased in Jump magazine last week.
Dragon Quest VIII is due out for 3DS in Japan on August 27.
View the screenshots at the gallery.