Azure Striker Gunvolt coming to PC on August 28
Steam version adds speedrun mode, Japanese voices, more.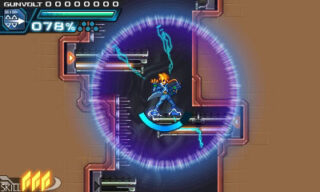 Inti Creates is bringing Azure Striker Gunvolt, its Megea Man Zero-inspired 2D side-scroller for 3DS, to PC via Steam on August 28 for $14.99, the developer announced.
From August 28 to September 28, everyone who purchases Azure Striker Gunvolt on Steam will receive a copy of Mighty Gunvolt as a free download.
The PC version will come with new features, including a speedrun mode, Japanese voice mode, and eight different languages. You can also play the game on two screens like the 3DS version.
Get the trailer and full outline below.
About

From Japanese game developer Inti Creates comes the 2D side-scrolling action game, Azure Striker Gunvolt!

With the "septimal" power to create and manipulate lightning, Gunvolt faces off against the massive conglomerate known as the Sumeragi Group. Intense battles unfold against Sumeragi's ultra-powerful adepts (those who possess septimal powers) as Gunvolt fights to keep his nation free.

Features

Lightning-Based Action – Use your trusty sidearm to tag enemies, then let loose a burst of electricity for massive damage. You can even tag multiple enemies and zap them all simultaneously. Your lightning abilities are not just for defeating enemies, though. Use them to perform various maneuvers such as hovering across hazardous terrain.
Do Battle with a Variety of Bosses – Sumeragi's most powerful members, with a wide range of personalities, await you at the end of your missions. Battles get heated as bosses unleash their most powerful skills and techniques.
Get Hype for Lumen's Songs – Even Gunvolt falls in battle sometimes. Enter the heroine Lumen, whose songs give Gunvolt the strength to get up and fight once more. If you manage to avoid damage and build up a lot of score, the BGM will change midway through the stage to one of Lumen's songs. Gotta keep that no damage hype train rolling right along!

New Features

To celebrate the 1st Anniversary of the release of Azure Striker Gunvolt on the Nintendo 3DS, the Steam version of the game packed full of brand new features! The following are just some of new features only found in the Steam version of the game:

Speedrun Mode – With the addition of Speedrun Mode, it's time to put your electrifying skills to the test. Future updates will expand the capacities of this mode, so keep an eye out for those as well!
Two Screens – You can play the Steam version on two screens just like the original. Screen sizes and layout can be freely adjusted to your liking!
Japanese Voice Mode – Enjoy the original Japanese version of the game complete with Japanese voiceovers and ample mid-stage dialogue, all translated into English.
Play the game in 8 languages

English
French
Italian
German
Spanish
Japanese
Portuguese
Russian (new for Steam version)

Stream Trading Cards – Collectors will have a new set of Steam trading cards to add to their collections.
Game Updates – New updates coming every month for the first 6 months!