Amnesia: Memories screenshots feature Ukyo, smartphone version announced
Smartphone version due out the same time as PS Vita and PC.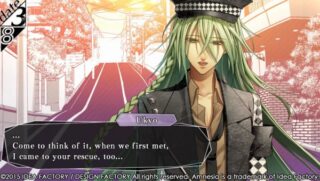 The latest set of Amnesia: Memories screenshots introduce Ukyo, the fifth and final bachelor available to players in the game.
Ukyo has been watching the heroine protagonist from the shadows. But it is not until you journey through the game's many worlds and shed light on the truth behind Ukyo that he reveals his true intentions to you.
Additionally, Idea Factory announced that Gloczus will be bringing Amnesia: Memories to iOS and Anroid in late August, the same time as the game's PS Vita and PC release.
Amnesia: Memories will launch for PS Vita and PC via PlayStation Network in North America and Steam worldwide on August 25, and via PlayStation Network in Europe on August 26.
Read up more on the visual novel here.
View the screenshots at the gallery.