Yomawari first details, screenshots
Find your missing sister and dog.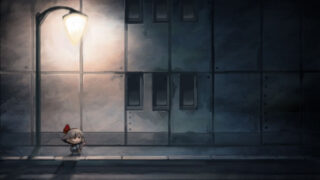 Nippon Ichi Software has released first details and screenshots of Yomawari, its newly announced PS Vita game due out on October 29 in Japan about a young girl looking for her missing sister and dog in an eerie, nighttime town.
Get the details below.
■ Story

A young girl was walking with her dog.

However, the dog was involved in an accident as a result of her carelessness, and disappeared somewhere.

Her older sister, who saw her return home with an empty leash, went out in search of the dog.

When her sister doesn't return, the young girl who was left alone leaves the house and goes out into the eerie night of the town, which is completely different from how it looks during the day.

■ Characters

Young Girl

A girl wandering about the town at night looking for her missing dog and sister.

Missing Dog and Sister

After the dog was in an accident and goes missing, the protagonist's older sister rushes out to the town to find him. But the older sister doesn't return home, and now both her and the dog's whereabouts are unknown.

■ Outline

The young girl will visit a variety of places while looking for her missing sister and dog. Many places are covered in darkness and will require she use her trusty flashlight to proceed.

Move throughout the Town with your Flashlight in Hand – In a city covered in darkness, there's a lot you can't see without light. Residential fences, telephone poles, and even the trees on the main road have disappeared into the darkness of the night. If there is something worth checking out, shine at it with the flashlight. If you seek out deserted places, where someone would likely hide, you might be able to find clues about your missing sister and dog.
See the Town at Night – A town that's popular during the day becomes quiet at night, and has a different, eerier atmosphere. There are also places you can enter precisely because it's nighttime.
Terror Lurks in the Darkness – There is a strange "terror" lurking in the darkness of the night. In the dark streets, black figures stand still under the roadside street lights. And you might suddenly feel the presence of someone behind you. If you hit these with light, you might see their true colors, but they might be "dangerous things."
View the new screenshots at the gallery.