Tokyo Xanadu introduces new characters, Master Core switching
Meet a yakuza member and the leader of BLAZE.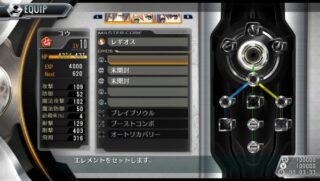 Dengeki PlayStation this week reveals new characters and system details for Tokyo Xanadu, included a mysterious knight known only as "White Shroud."
Get the information below.
White Shroud (voice actor unknown)

A knight with an unidentifiable seal who belongs to "Chronos Orden," the army of the Holy Spirit Church. Chronos Orden opposes the Nemesis and Zodiac groups. Unlike the other two organizations, Chronos Orden is a group that wants to seal the Other World—no argument against it.

Eiji Goto (voiced by Eiji Takemoto)

The waka gashira of the Takabane gang. He's an old-fashioned, chivalrous yakuza who doesn't allow himself to go against the gang's moral code.

Akihiro Inui (voiced by Shunsuke Kanie)

The second generation leader of BLAZE, the delinquent group that Shio once led. After Shio retired, Akihiro gathered up the dissolved team and restarted the group's activity. By absorbing a small team, expanding its power, and so on, their activity is becoming more and more radical.

System

By switching your Master Core, your attribute changes. You can switch your Master Core while out and about in the real world, before heading into the Other World, or when you come across a Relic monument in the Other World. Your attack effect color will change when you switch Master Cores, and your weapon appearance will alter slightly. While it's possible for Kou to switch to every attribute, the other characters can only switch to one sub-attribute in addition to their base attribute.
Skills have three stages of upgrades.
If you defeat an enemy using their weak point, an "Element Kill" will be triggered. If you defeat an enemy through dealing a lot of damage, a "Fatal Kill" will be triggered. For each, you'll obtain higher item appearance rate bonuses. Element Kills increases the value of exploring in the Other World.
Thanks, Games Talk.