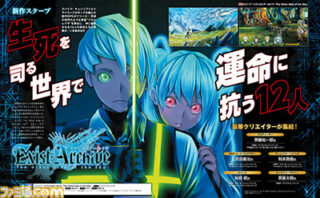 The latest issue of Weekly Famitsu reveals Exist Archive: The Other Side of the Sky for PlayStation 4 and PS Vita, a new RPG published by Spike Chunsoft and developed by tri-Ace. It's due out in Japan later this year.
The text in the above scan reads: "In a world that rules over life and death, 12 people go against fate."
Famitsu has 14 pages of coverage on Exist Archive, including information on its story, characters, setting, side-view dungeons, and battle system. There is also an interview with Spike Chunsoft producer Yuichiro Saito, tri-Ace R&D lead programmer Yoshiharu Gotanda, and character designer Mino Taro, as well as comments from director and scenario writer Masaki Norimoto, and composer Motoi Sakuraba.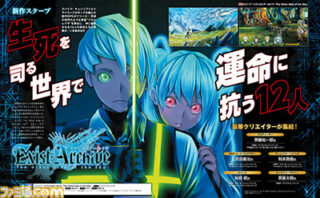 Details will likely leak sometime after 5:00 a.m. ET tomorrow morning.
Thanks, Famitsu.