Persona 4: Dancing All Night Yu and Rise English character trailers, screenshots
The brightest stars of the upcoming rhythm game.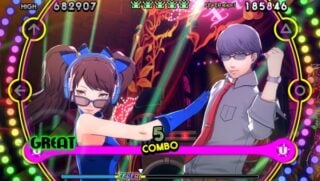 Atlus has released the first set of English Persona 4: Dancing All Night character trailers and screenshots, introducing protagonist Yu Narukami and mega-idol Rise Kujiawa.
Here are some short descriptions, via Atlus:
Rise Kujikawa – The Mega-Idol Star herself, Risette! She needs the help of the Investigation Team to save her Junior Idol group, Kanamin Kitchen when they go missing. Rise calls upon her old friends to go into the Midnight Stage and take on the Shadows that dwell within.
Yu Narukami – The head of the Investigation Team and the Persona 4 protagonist himself. Once Rise sends out the call for help, Yu and the rest of the Investigation Team are more than eager to help out. So Yu leads the rest of the investigation team as they bust out some crazy dance moves to help fight off the Shadows!
Watch the videos below. View the screenshots at the gallery.
Yu Narukami
Rise Kujikawa