Lab Zero partnering with 505 Games for Indivisible
Skullgirls dev breaks down how funding will work.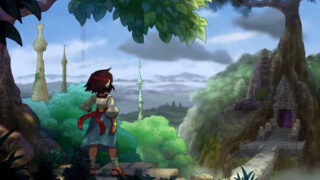 Earlier this month, Skullgirls developer Lab Zero Games announced Indivisible, a new action RPG that it plans to crowdfund via Indiegogo.
Today, the developer announced that it is partnering with 505 Games, who will fund the development of a playable prototype for Indivisible. Once that prototype is complete, it will be released to the public and an Indiegogo campaign will be launched in September. If the goal for the campaign is met or exceeded, 505 Games will contribute the remaining development budget and full production will begin.
"To be clear, this isn't a campaign to 'gauge interest' – Indivisible represents a more equitable funding split, where your support directly influences not only the game, but also the post-release benefits Lab Zero receives," Lab Zero's Peter Barholow said in a blog post. "Indivisible will not happen if we don't hit our goal. But should the campaign succeed, Lab Zero will have a better outcome than we would've gotten through a more traditional publishing deal – that's the risk we took, and we feel it's a worthwhile tradeoff."
Rewards for the Indiegogo campaign will incldue physical versions of the game, as well as other rewards like plushies.