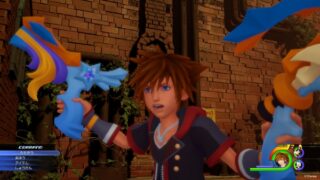 Disney Interactive has announced its lineup of games for next month's D23 Expo at the Anaheim Convention Center in Anaheim, California.
Get the full lineup below.
Sunday Presentation

In the Hall D23 presentation on Sunday, August 16 at 11 a.m., fans won't want to miss never-before-seen gameplay, trailers, new reveals and surprises from Disney Interactive's most anticipated games. Among the games participating in the presentation are: Disney Infinity 3.0 Edition, Star Wars Battlefront from Electronic Arts, and Kingdom Hearts III from Square Enix.

Kingdom Hearts III

Square Enix will bring special guests and surprises to Hall 23 to reveal new information from Kingdom Hearts III.

Star Wars Battlefront

Electronic Arts will give guests an in-depth look at Star Wars Battlefront, the authentic Star Wars gaming experience coming November 17.

Pavilion guests will also be able to live out some of their Star Wars battle fantasies by going hands-on with Star Wars Battlefront.

Disney Infinity 3.0 Edition

Disney Interactive will showcase more Star Wars characters and Play Sets new to Disney Infinity 3.0 Edition and provide the entire audience with limited-edition giveaways exclusively for Hall D23.

Star Wars: Battle Pod

Fans can experience the latest arcade sensation from Disney Interactive, Lucasfilm and Bandai Namco Entertainment, Star Wars: Battle Pod. Featuring cutting-edge, arcade-style video gameplay, Star Wars: Battle Pod brings players right into the action with a totally unique experience featuring a dome-shaped screen, air jets, and rumble seat.

Mobile Games

In the pavilion's game lounge, fans can take a break from the show floor and try out the hottest mobile games including Star Wars: Commander, Frozen Free Fall, and LINE: Disney Tsum Tsum.
D23 Expo 2015 runs from August 14 to 16. It's worth noting that this is a separate event from D23 Expo Japan 2015 in November, which will also feature new Kingdom Hearts III information.