Genei Ibun Roku #FE will take 30 hours to clear
Or 60 hours with side stories and such.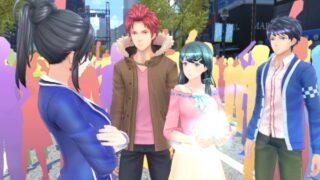 Famitsu this week has a few new details on Nintendo and Atlus' upcoming Shin Megami Tensei and Fire Emblem collaboration game for Wii U, Genei Ibun Roku #FE.
Get the tidbits below.
Fire Emblem characters are being selected from Fire Emblem: Shadow Dragon and the Blade of Light and Fire Emblem: Awakening. Others will also appear as friends, or as enemies or masterminds.
Characters are selected based off things such as their popularity ranking data. Both Cain and Abel will also appear.
Characters that appeared as enemies in Fire Emblem will appear as enemies in this game.
The main story takes about 30 hours to clear. The side stories and such take about the same amount of time.
The game is currently in the debugging and balance adjustments stage. All of its features have already been implemented.
This is being called a Fire Emblem and Atlus collaboration, but it's a completely new RPG that any RPG fan can enjoy.
Genei Ibun Roku #FE is due out for Wii U in 2016.
Thanks, Hachima Kikou.